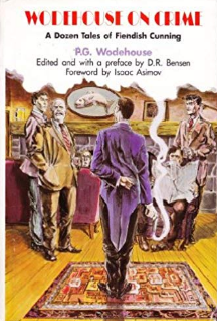 During a recent trip to Powell's Books in Portland, OR, I picked up Wodehouse on Crime: A Dozen Tales of Fiendish Cunning, an oddly packaged collection of P.G. Wodehouse stories edited by D.R. Bensen. Wodehouse on Crime features stories from all over the Wodehouse universe: Jeeves and Wooster, Mulliner, Lord Emsworth, Ukridge. Wodehouse was perhaps the furthest thing on Earth from a hardboiled crime writer, but a surprising number of his plots hinge upon some form of law-breaking. Bertie Wooster alone has been assaulted, defrauded, slandered, and blackmailed, and, in his turn, stolen many a policeman's helmet.


Wodehouse on Crime boasts a few standouts ("The Crime Wave at Blandings", "The Smile that Wins", "Aunt Agatha Takes the Count") and a couple of duds ("The Romance of a Bulb-Squeezer", "Indiscretions of Archie"), but most of the entries fall somewhere in the pleasant-but-forgettable range. If you find an inexpensive copy, go for it, but there are far better Wodehouse collections out there. Wodehouse on Crime is the kind of book that feels like it was designed to gather dust on vacation rental bookshelves—undemanding and enjoyable, but not so enticing that anyone would bother stealing it.
No new comments are allowed on this post.