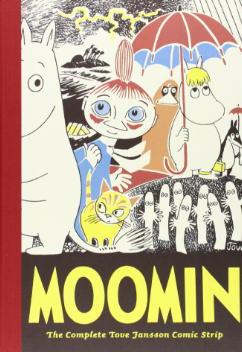 In 2006, the Canadian publishing company Drawn & Quarterly released the first volume of
Moomin: The Complete Tove Jansson Comic Strip
. Whoever did the graphic design for these editions deserves a raise: they're vivid and eye-catching, doing full justice to Jansson's art and characters. Drawn & Quarterly went on to publish four more volumes of Tove Jansson's classic strip, as well as another ten volumes written by Tove's brother Lars, who took over the comic strip in 1960.
If you're unfamiliar with the Moomins, they're a little hard to describe. Imagine kinder (usually), gentler versions of P.G. Wodehouse characters, depicted as hippo-like trolls living an idealized Bohemian lifestyle in the Finnish countryside. The stories focus on good-natured, somewhat dim-witted young Moomin and his family and friends, who survive a never-ending series of natural- and self-inflicted disasters, most of which prove to be ultimately harmless. Each Drawn & Quarterly volume collects four short stories, suitable—although probably not particularly comprehensible—for kindergartners on up.
While Tove Jansson lacks the American name recognition of Walt Disney or Dr. Seuss, her work has endured for decades, and her characters have worldwide fans. There are Moomin-themed amusement parks in Finland and Japan. Last year, OxFam used Jansson's characters in a campaign for women and girls' rights. People have Moomin-themed tattoos. (
So
.
Many
.
Tattoos.
) So even if a collection of mid-century comics about a mild-mannered Finnish troll doesn't sound like the kind of thing you'd usually read, you should check it out at least once. It will increase what my mother refers to as your "cultural literacy", and I promise it's less niche than it sounds.
No new comments are allowed on this post.