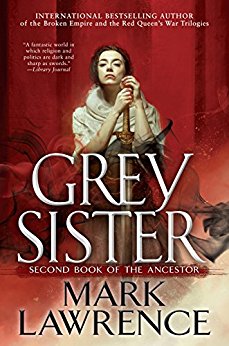 Grey Sister, the second book in Mark Lawrence's Book of the Ancestor series, combines the magical schools and super-powered children of Harry Potter, the mystical sisterhood of Dune's Bene Gesserit, and more violence and looming ice than Game of Thrones. The various elements don't fuse together perfectly, but there are some A+ ideas in play.

Lawrence's heroine, teenage novice Nona Grey, has just entered the Mystic Class at the Convent of Sweet Mercy, where she and her fellow students are continuing their education. But the enemies in Nona's past have not forgotten her, and her allies are beset by problems of their own. When Nona and her friends attempt to learn more about the priceless artifact stolen in the previous book, their search exposes them to dangers greater than their training and talent can handle.

Lawrence excels at action sequences, and the hard-won loyalty between his heroine and her friends gives this series its heart. Grey Sister feels a little choppier than its predecessor: the story careens from its school setting to a political cat-and-mouse subplot to a final sequence that's awash in blood. All of these sections have their strengths, but they don't flow together—the political sequences are too short and far apart to generate much suspense, and the tremendous violence in the book's conclusion undermines the Draco Malfoy-style pest who serves as the primary antagonist in the first half. Happily, the elegance of Lawrence's prose, the fierce appeal of his heroine, and the inventiveness of his world-building are just as impressive as they were in the first book, and more than enough to leave me eagerly awaiting this series' final installment.

Review based on publisher-provided copy. All opinions are my own.
No new comments are allowed on this post.