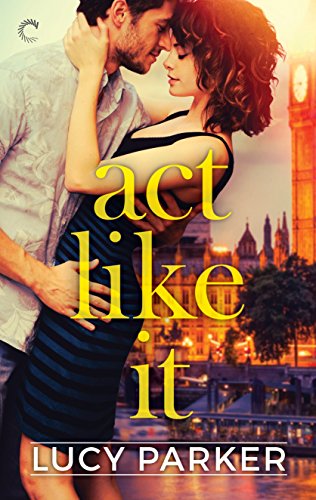 In a year when most of the romance novels I've read have been a mild disappointment—even those that came
highly recommended
or were written by
old favorites
—I was thrilled to discover Lucy Parker's
Act Like It
. This short, ridiculously cute read by a new-to-me author more than meets my #1 romance novel requirement: being an uncomplicated good time.
The protagonists of
Act Like It
are two English stage actors: up-and-coming actress Lainie Graham, and megastar Richard Troy. When the success of the production they're co-starring in is threatened by Richard's temper tantrums, the management comes up with a scheme to turn the press coverage to their benefit: a fake budding romance between an established star and a charming ingénue. Lainie and Richard are both appalled by the idea, but thanks to a mixture of bribery and blackmail, immediately find themselves neck-deep in a very public (and unexpectedly enjoyable) "relationship".
I only have two complaints about
Act Like It
, and they're both minor. First, I forget the title the split-second I look away from it. This is always a problem for me with romance novel titles, but this one feels particularly bland, despite the acting reference. Second, the book is a little short, both page-wise and chronologically. 199 pages is basically a novella, and the story takes place over the course of a month. There's nothing missing, but I both wanted to spend more time with the characters (because they're awesome!), and would have an easier time buying their happily-ever-after if they'd been seeing one another for longer than half a season of
Game of Thrones
.
No new comments are allowed on this post.