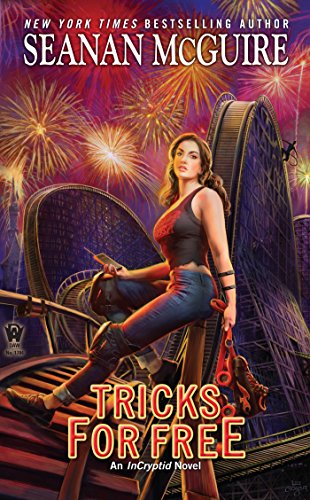 This is a unusual thing to say about the seventh book in an ongoing series, but Seanan McGuire's
Tricks for Free
surprised me. This story is much different in tone and content from McGuire's previous installments, but plenty entertaining in its own way.
Antimony Price is on the run from her family's enemies, and she chooses to hide in the least likely place possible: Lowryland, one of the biggest amusement parks in Florida. Thanks to a few lucky breaks, Antimony manages to land a job at the park and a couple of sympathetic (read: non-human) roommates. Unfortunately, a series of high-profile accidents have befallen the park, and Antimony keeps finding herself dangerously close to the fallout.
Tricks for Free
isn't as laugh-out-loud funny or focused on cryptozoology as the
earlier books in the series
, but the darker tone and setting suit the story—at this point in the action, Antimony is tired and lonely, and it shows in her narration. I'm assuming the next installment will return us to the ongoing storyline, but I really liked this detour. I won't remember the details of this particular book's Big Bad a week from now, but McGuire's all-too-plausible descriptions of the prosaic unpleasantness of a minimum-wage amusement park job are going to linger in my brain for some time.
Review based on publisher-provided copy.
No new comments are allowed on this post.