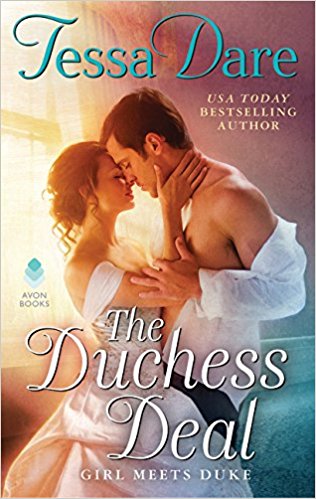 After dipping our romance-reading toes into a
workplace romantic comedy
, a
historical suspense novel
, and a
sexy angst-fest
, it's time for an old favorite: a Regency romance. The last book in our month of romance reviews is Tessa Dare's
The Duchess Deal
, the first installment in Dare's new "Girl Meets Duke" series.
When impoverished seamstress Emma Gladstone turns up on the Duke of Ashbury's doorstep, all she wants is to be paid for the hideous wedding dress commissioned by his former betrothed. The Duke isn't particularly interested in her plight, but he
is
suddenly in the market for a wife, and impulsively decides that Emma will do as well as any other. Emma is convinced he must be mad, but once he sets out his conditions—no discussion of his terrible scarring, and a relationship that will only last long enough to produce an heir—she is tempted to accept his unconventional proposal.
The Duchess Deal
isn't overburdened with historical details, but it is genuinely romantic and frequently laugh-out-loud funny. (I was strongly reminded of Julia Quinn's writing, although Dare's jokes feel less forced.) I've read more thoughtful, ambitious, and/or dramatic Regency romances, but rarely one that I found as instantly engaging. I was stoked to discover that Dare has a large back catalogue, because she just shot to the top of my list of future beach reads.
No new comments are allowed on this post.