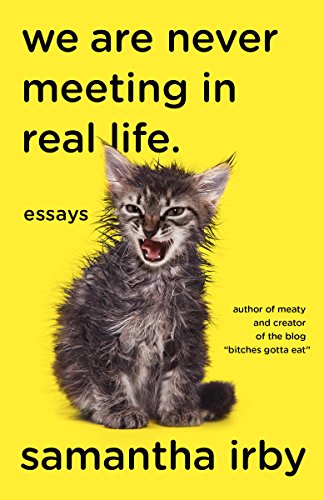 I have never understood why people buy crappy stuff to read on airplanes. I need something great to read on a plane—a book instantly absorbing enough to distract me from the many, many things that suck about flying. A People article about Chris Pratt is not going to cut it, so I was delighted to run across an A+ plane book recommendation for this upcoming holiday season: Samantha Irby's essay collection We Are Never Meeting in Real Life.

In We Are Never Meeting in Real Life, Irby covers subjects ranging from her pop-culture obsessions to her mental and physical illnesses. The end result is a collection of serio-comic essays that slip seamlessly between one emotional extreme to the next, sometimes in the space of a single paragraph. Irby is equally likely to make a joke about her abusive father as she is The Bachelorette, but the opposite is just as true—she finds pathos and humanity in some pretty unlikely places.

Admittedly, there are some chapters that you might not want to read while sitting millimeters away from the stranger hogging the plane armrest. There's the (detailed) chapter where Irby discusses her sex life, and a lot of all-caps swearing. And if you're a crier, many of the details about Irby's family are genuinely heartbreaking. But most of this book will just leave you cackling like a cartoon villain. I don't care if Irby is talking about her cat, her finances, her romantic past, or her love of trash TV; she has a gift for transforming mundane details into something both relatable and hilarious.
No new comments are allowed on this post.