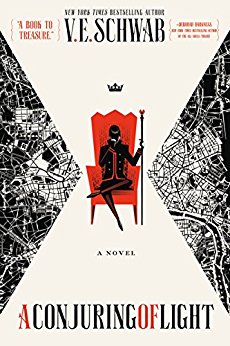 A Conjuring of Light
is the third and final book in V.E. Schwab's bestselling Shades of Magic series. At this point in the story, the relative safety of Red London has shattered. Kell, Lila, and their allies are confronted with the seemingly limitless powers of Osaron, a being of pure magic determined to bend the world of Red London to his will.
As I said in my review of the
first installment of this series
, the breathless praise heaped upon these books is overblown. They are, in a word, fine. Schwab has produced a well-written, briskly paced fantasy series, with a handful of memorable ideas and images (the four worlds; Lila's glass eye; all the scenes involving piracy) and an equal handful of forgettable characters and unfulfilled storylines. If you're looking for an enjoyably pulpy adventure series with loads of fight scenes, you could do worse. But if you judge your fantasy by its inventiveness, definitely keep looking, because there's nothing here we haven't seen before.
No new comments are allowed on this post.