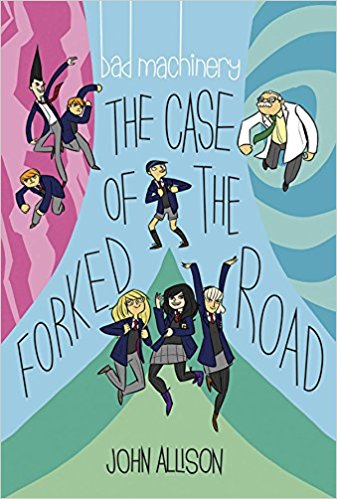 The Case of the Forked Road, the seventh installment in John Allison's excellent Bad Machinery series, is—as always—a whacked-out delight. There's time travel, puberty jokes, and a PG-rated adaptation of Glengarry Glen Ross. The boys play a reduced role in this volume (although their stories are expanded from the online version), but Allison handles the volatile-but-loving relationship between Lotte, Shauna, and Mildred with his usual deft touch.

That being said, I am massively irritated by the fact that this volume has been printed in a completely different style from the previous six installments. I don't know who made this call, and I understand that the new format is both cheaper and easier to sell, but it is Not Okay to completely alter the size and format of a series more than two-thirds of the way though its run. (And no, I'm not eager to re-purchase the previous books in a new style, just so my books will match.) Comic books are a visual medium; if I didn't care how my books looked, I would be reading something else. Nothing can diminish my love for Bad Machinery, but it will be quite some time before I can look at Allison's section on my bookshelf without wincing.
No new comments are allowed on this post.