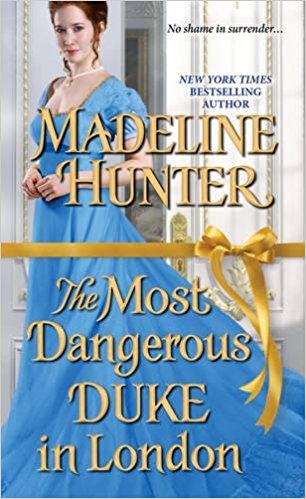 Madeline Hunter is not a romance novelist I read consistently, but she is high on my "reasonable impulse buy" list—the authors I save for beach vacations and particularly unpleasant head colds. Her books never blow my mind, but they never offend with hideous anachronisms or insane behavior, either, and sometimes that's all you can ask for.

The Most Dangerous Duke in London is the first book in Hunter's new "Decadent Dukes Society" series. Adam Penrose, Duke of Stratton, has just returned to London after several years in France. Adam is a scandalous figure, despite his title, but he sets out to marry (or at least seduce) Clara Cheswick, the daughter of his family's sworn enemy. Clara, an independently wealthy young woman who secretly publishes a progressive women's journal, wants nothing to do with Adam, but the duke proves to be nearly impossible to resist.


I was most interested in Clara's publishing career, but that storyline doesn't go anywhere in this novel, and it's unclear that it ever will. Unfortunately, this series is arranged around its male protagonists, despite the fact that the dukes in question are pretty boring. (The most memorable thing about Adam is not his reputation for danger, it's the fact that his steamroller approach to courting Clara is neither sexy nor charming—it fact, it borders on delusional.) I'll keep an eye out for the next book in this series, but unless Clara's journal plays a larger-than-expected role, I'll probably wait for the next time I can't stop sneezing to actually pick it up.
No new comments are allowed on this post.