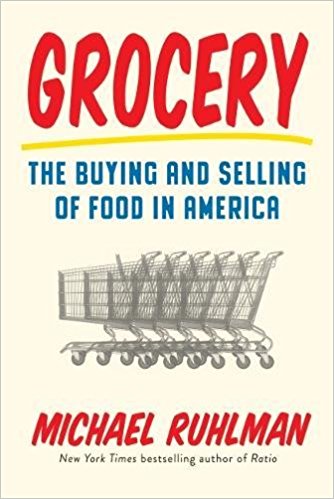 We mostly review fiction here at Wordcandy, but there are a handful of nonfiction topics we consider of universal interest: money, history, and (most of all) food. Michael Ruhlman's recent book
Grocery: The Buying and Selling of Food in America
actually touches on all three of these subjects, so it's right up our alley.
Ruhlman's book centers loosely around
Heinen's
, a (comparatively) small, family-run Midwestern chain of grocery stores. The author uses Heinen's as a jumping-off point to investigate dozens of food-related issues: health and environmental trends, business developments, historical anecdotes, and exploring the way food is purchased, stocked, and promoted. He sets out to better understand how our food needs have changed since the development of the supermarket, and ponders the additional changes coming in the not-too-distant future.
Grocery
is as scattered as it is entertaining, and might have been better off as an ongoing series of in-depth magazine articles. Of course, that's also a testament to the complexity and depth of the book's subject—it's pretty damn difficult to draw an in-depth picture of "the buying and selling of food in America" in less than 300 pages. This book, in all its rambling, hodgepodge glory, serves as a reminder that grocery stores play a critical role in our daily lives, and I'm grateful Ruhlman has given them a bit of the critical attention they so richly deserve.
No new comments are allowed on this post.