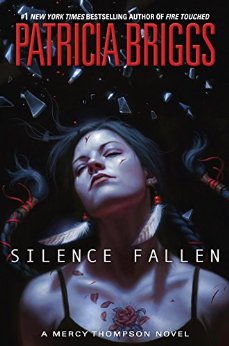 Silence Fallen
is the tenth novel in Patricia Briggs's best-selling Mercy Thompson series. In this fast-paced, action-heavy installment, shape-shifting VW mechanic Mercy is abducted from her home territory in the Pacific Northwest and spirited away to Italy, where she finds herself a pawn in a chess game being played by an ancient and powerful vampire. Being a resourceful sort of woman, Mercy promptly escapes—but finds herself stuck in Europe without money, identification, or allies.
I routinely compare Briggs' books with
Laurell K. Hamilton
's. Both authors have achieved similar levels of fame, write crime-noir stories set in modern-day fantasy versions of America, and base their books around tough-minded, spectacularly resilient heroines. But while their surface similarities are obvious, I am constantly impressed by how much
better
—across the board—Briggs' books are: her heroine more sympathetic, her mysteries more complex, her supernatural creations more inventive, and her romantic storylines
less revolting
. Hamilton has her charms (well, her early books did—the more recent ones have been a total waste of paper), but if you're looking to embark on an urban fantasy series with a fully developed world and a genuinely appealing heroine, Briggs is the infinitely safer bet.
Review based on publisher-provided copy.
No new comments are allowed on this post.