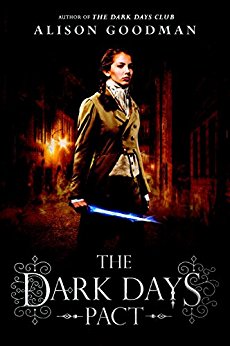 When I read the
first book
in Alison Goodman's Lady Helen series, I found it solidly written but over-engineered. The second installment,
The Dark Days Pact
, has similar strengths and weaknesses, but the deepening emotional stakes make the overall story far more satisfying.
After the scandalous and dangerous events at her presentation ball, Lady Helen has been disowned by her uncle. She travels to Brighton, where she hopes that her hard-won independence will allow her to finish her Reclaimer training. Unfortunately, Helen's difficulties are fast out-pacing her education: her mentor—the enigmatic Lord Carlston—seems to be going mad, her other allies are only occasionally useful, and she has been given a secret mission by Mr. Pike, the icy bureaucrat in charge of the Dark Days Club.
As did Goodman's
earlier series
, the horror in the Lady Helen books relies heavily on the claustrophobic creepiness of being a woman in a repressive time and place. There are plenty of overtly sexist antagonists in this series, but I'm most interested in a more nuanced character: Helen's would-be fiance, the Duke of Selburn. While the Duke repeatedly claims to understand Helen's new powers and responsibilities, it is obvious that he cannot actually fathom a scenario in which she isn't in need of his protection. This real-world conflict is a rich source of drama, and and I'm more invested in Helen's attempt to deal with her misguided suitor than I am in any of these books' many mystical MacGuffins.
No new comments are allowed on this post.