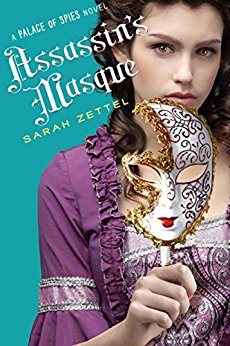 Assassin's Masque
, the third book in Sarah Zettel's Palace of Spies series, is a fun, smart read with an eye-catching cover, but I suspect it lacks that special something that makes teen books fly off shelves. (It might look inadequately dramatic?) I'm sorry about this, because I've found all of Zettel's books solidly entertaining.
At this point in the series, Peggy Fitzroy's life is undergoing some major changes. Her unpleasant guardian is dead, her long-lost father has reappeared, and she has earned the trust of her royal employers. But when a veiled woman shows up at her uncle's funeral, Peggy finds herself questioning—yet again—the intentions of the people she has chosen to trust.
I've read and enjoyed plenty of novels about girls with extraordinary powers, but my favorite thing about the Palace of Spies books is the heroine's relative ordinariness. Peggy relies upon a combination of wit, charm, and luck to succeed, rather than a single
outstanding talent
(or
supernatural power
). She's supposed to be a spy, after all, and spies rarely succeed by standing out. I find the constantly murky motivations of pretty much
every adult character
a little tiresome, but Peggy is such an appealing protagonist that I'm impatiently awaiting the next installment in this series.
No new comments are allowed on this post.