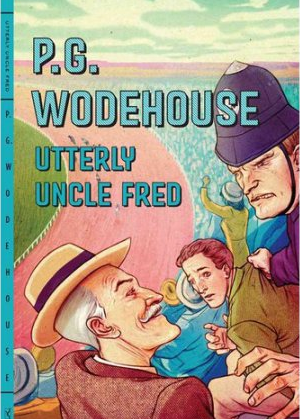 Utterly Uncle Fred is an omnibus edition of P.G. Wodehouse's stories about the irrepressible Frederick Altamont Cornwallis Twistleton, 5th Earl of Ickenham. This collection includes the novels Cocktail Time, Uncle Dynamite, and Service With a Smile, and well as the short story that introduced us to the character, "Uncle Fred Flits By".


The titular protagonist of the Uncle Fred stories is a cheerful and endlessly inventive man in his sixties. While his wife Jane does her best to keep him quietly in the country, there are a few days every year where he gets loose and heads up to London, much to the horror of his nephew Pongo. During these outings Uncle Fred inevitably decides that it is his job to spread sweetness and light among the populace, and in doing so subjects poor Pongo to a soul-testing experience.

Uncle Fred is one of my favorite Wodehouse protagonists, in part because there aren't many stories about him. I am a die-hard fan of Wodehouse's series, but there's no denying he was prone to recycling jokes and forgetting previously-established details. (If ever an author needed a story bible, that author was Pelham Wodehouse.) The Uncle Fred stories offer the best of both worlds: the character-driven humor of his series work, and the tidier storytelling of his standalone novels.
No new comments are allowed on this post.