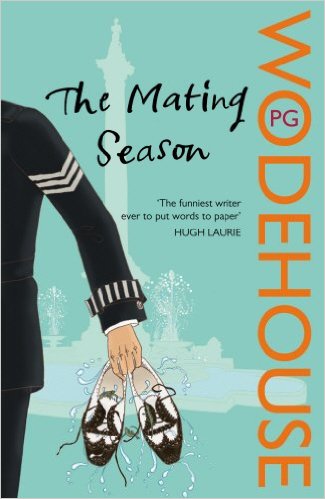 Regardless of whether they're 20 pages long or 200, P.G. Wodehouse's Jeeves and Wooster stories are always the same: heavy on whip-cracking aunts, hapless young men, formidable young ladies, and romantic misunderstandings that can usually only be resolved by making an ass out of poor Bertie Wooster. Since there are so few differences between his novels and short stories, I prefer the short stories—they cram just as much awesomeness into far fewer pages.

Wodehouse's 1949 novel The Mating Season is a fine example: it's totally fun, but a little too reliant on recycled jokes, characters, and situations. Bertie Wooster has been summoned to Deverill Hall, Hampshire, to perform at a village entertainment. Unfortunately for Bertie, there are a couple of additional items on his to-do list. He needs to protect his old friend Catsmeat's fiancee from the attentions of the local landowner, and he needs to disguise himself as Gussie Fink-Nottle, teetotaler and noted newt-fancier. Naturally, Bertie's various plots go awry, and he is forced to turn to his infinitely resourceful valet Jeeves for assistance.

That said, there is a hidden treasure in The Mating Season, at least for hardcore Wodehouse nerds (like me). This book contains the only complete plot summary of a Rosie M. Banks novel. Rosie M. Banks is one of my favorite recurring Wodehouse characters—she's a highly successful female novelist who calls her husband things like "sweetie-lambkin" and writes wildly overwrought tearjerkers with titles like Only a Factory Girl and The Courtship of Lord Strathmorlick. In The Mating Season, we get a two page-long-look at the plot of her novel Mervyn Keene, Clubman, and it is glorious. The rest of novel might be stretched a little thin, but those two pages justify half the cover price by themselves.
No new comments are allowed on this post.