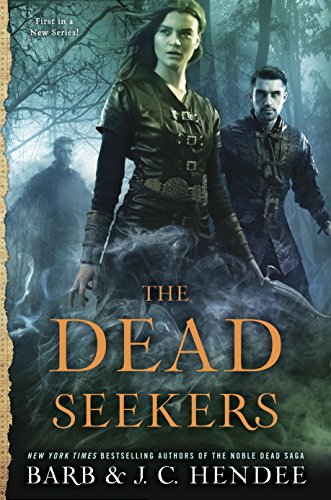 Barb and J.C. Hendee's new novel
The Dead Seekers
has a very specific target audience: people hoping for a serious take on movies like
Van Helsing
or
Hansel and Gretel: Witch Hunters
. Set in the same world as the Hendees' best-selling Noble Dead series,
The Dead Seekers
features a vaguely Eastern European setting, loads of ghosts, and two gloomy protagonists—Tris, an uptight ghost-slayer for hire, and Mari, a young woman determined to avenge her murdered family. (I don't know if Mari wears a fetching leather corset, but she almost certainly does.) Mari suspects that Tris is responsible for her parents' deaths, but he's so physically inept that she decides to travel alongside him for a while, confirming that she has the right person before doing any killing of her own.
The characters in
The Dead Seekers
have little chemistry (romantic or otherwise), and there's even less tension created by Mari's quest for revenge. The book cries out for tighter editing; it's riddled with missing capital letters and confusing sentences like "Only a fool would think cunning and stealth were enough, and she'd become too cunning for that." On the other hand, the story features several excellent action sequences, Tris's background is intriguing, and the world-building, while scanty, will be enjoyed by anyone who has watched as many 90s vampire movies as I have. If you're looking for an intense, intelligent, character-driven story about ghost-hunting... well, I'm still going to recommend Jonathan Stroud's
Lockwood & Co. series
. But if you've already read the Lockwood & Co. series (or you sincerely enjoyed the first
Subspecies
movie),
The Dead Seekers
is a perfectly reasonable follow-up.
Review based on publisher-provided copy.
No new comments are allowed on this post.