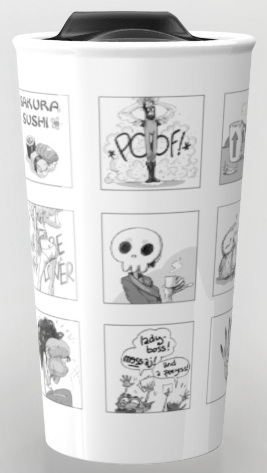 Gift Idea #8:
Girls Next Door
mugs
Okay, this one is both a little hard to explain and aimed squarely at the most hardcore nerds among us (me included; I already requested one of these for Christmas). French artist Rebecca Morse's webcomic
Girls Next Door
started life as a spinoff of AsheRhyder's fancomic
Roommates
, but has since earned a large fandom of its own. It centers around modern college roommates Sarah Williams (heroine of the 1986 movie
Labyrinth
) and Christine Daaé (from
The Phantom of the Opera
) and their wide circle of fictional friends—characters from everything from
Dracula
to
Good Omens
. Sure, the premise doesn't
sound
like it makes any sense, but trust me: this series is a joy to read, and I was thrilled to discover that Ms. Morse is now selling a handful of images via
Society6
.
No new comments are allowed on this post.