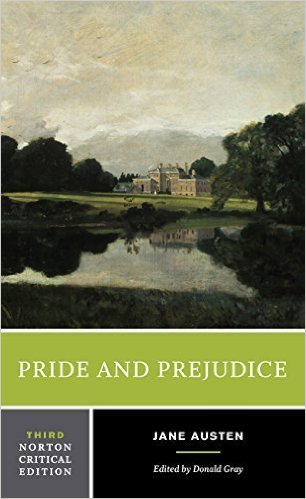 When reviewing an
annotated Jane Austen novel
, I always want to emphasize that I am focusing solely on the quality of the critical content featured in this particular edition. (I don't have anything left to say about
Pride and Prejudice
other than it's amazing, and if you haven't already read it you should stop poking around the internet and jump right on that.)
If I had to pick the ideal reader for
Pride and Prejudice: Third Norton Critical Edition
, I would suggest either a dedicated college-level student or a hardcore Austen nerd. More than a third of this book is devoted to critical content, organized chronologically and ranging from contemporary reviews to psychological analysis to a rather dry (but very informative) "Note on Money" from editor Donald J. Gray. The essays vary in depth and quality, but there are several outstanding entries, including an impressively thoughtful character analysis of Mr. Darcy by actor Colin Firth. While I found the actual annotations inadequate and weirdly chosen*, the volume and quality of the critical content more than made up for it.
*As longtime readers of the site know, I judge
Pride and Prejudice
annotations on the reference to "white soup" in chapter XI. The best annotations offer actual recipes; this book doesn't bother to define white soup at all, although it does note in the same paragraph that "cards" means "invitations". Thanks, Mr. Gray! I never could have guessed!
No new comments are allowed on this post.