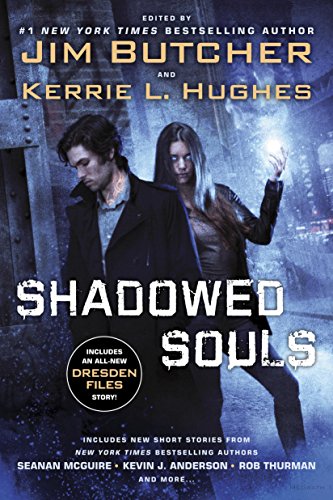 Shadowed Souls is a bit of a bait-and-switch. Based on the style of the cover, I had assumed that this was a Dresden Files-themed anthology written by a bunch of big-name urban fantasy writers. Instead, it's an uneven collection of "dark and gritty" short stories tied together by a unifying theme of... I don't know, actually. Shit happens?

The authors featured in Shadowed Souls include Wordcandy favorites Kat Richardson, Seanan McGuire, and, yes, a B-grade Dresden Files short story written by Jim Butcher himself. I am less familiar with the other writers, although there are several big names among them—Tanya Huff, Kevin J. Anderson, Rob Thurman. None of the stories are out-and-out terrible (although none of them are great, either), but editors Jim Butcher and Kerrie L. Hughes would have been well-advised create a clearer theme for the various installments. As it is, readers are left with a handful of fair-to-middling shorts that don't make enough of an impression to stand on their own, and aren't interconnected enough to generate a snowball effect.

Review based on publisher-provided copy.
No new comments are allowed on this post.