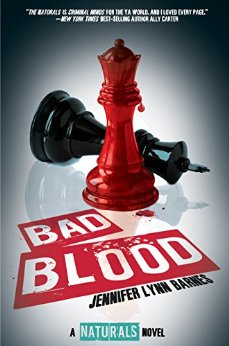 Bad Blood
is the fourth and final book in Jennifer Lynn Barnes's
Naturals
series. Once again, Barnes has delivered a briskly-paced thriller seemingly tailor-made for a CW adaptation. (Seriously, the fact that this series isn't already on my TV is bewildering to me.)
Since joining the FBI's Naturals program, Cassie Hobbes and her friends have used their unique talents to hunt down several murderers, but the mystery of Cassie's mother's grisly death has remained unsolved. The Naturals have recently learned that Cassie's mother is still alive, but held captive by a group of serial killers. This leaves Cassie torn between her determination to stop the killers, and her hope that the ongoing murders will provide a clue about her mother's whereabouts.
I didn't realize that this would be the last book in the series until the final chapters, which says something about the impact of the plot climax—namely, that it isn't very climactic. While even C-grade Barnes is still several cuts above most YA fiction,
Bad Blood
falls well short of its predecessors. A brand-new character (with a magically useful skill) sucks up too much of the plot, none of the many, many villains are particularly memorable, and the big finale fizzles out. There's nothing super objectionable about this book, but it's an underwhelming send-off for a great premise and a bunch of genuinely endearing characters.
No new comments are allowed on this post.