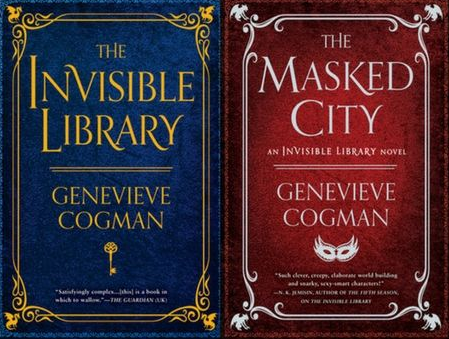 The Invisible Library
and
The Masked City
, the first two books in an ongoing series by Genevieve Cogman, read like a blend of Jasper Fforde's
Thursday Next
series and Daniel O'Malley's
Rook Files
. Happily, Cogman takes these familiar ingredients—literary references, bureaucratic rivalries, pragmatic heroines—and transforms them into something charming in its own right.
Irene is a junior agent for the Library, a pan-dimensional organization devoted to the collection of the most important books in each universe. After her latest mission goes slightly awry, she's looking forward to some time off. Unfortunately, the Library has other plans. Irene is immediately assigned another job, and this time she's taking along a trainee: Kai, an impossibly good-looking young man with an implausible backstory. Irene and Kai are shipped off to an alternate version of Victorian London—one with zeppelins, vampires, Fae diplomats, and an
extremely
difficult-to-acquire copy of the Grimm brothers'
Children's and Household Tales
.
Look, I am always going to approve of a series that features a society ball being attacked by mind-controlled alligators. It's a fundamental part of who I am. Cogman's books have their flaws (not least the exasperatingly underdeveloped relationship between Irene and Kai—it's not enough to be
told
that they have chemistry, Ms. Cogman! We need to
see
it!), but they are dryly funny, packed with action, and set in a dazzlingly inventive world. I read both books in a single evening, and my fingers are crossed that Ms. Cogman's publishers will send me an early copy of the
next installment
in the series, because there is no way I'm patiently waiting for next January.
No new comments are allowed on this post.