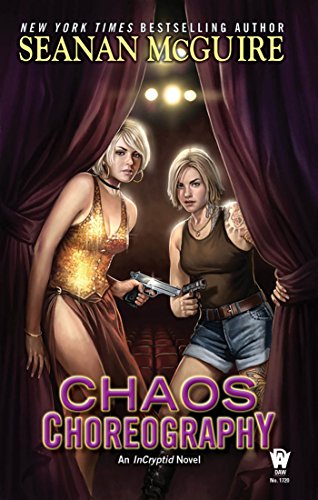 After a two-book-long
detour
, the fifth installment in Seanan McGuire's InCryptid series brings the action back where it belongs: on ballroom-dancing, ass-kicking cryptozoologist Verity Price. In
Chaos Choreography
, Verity has set aside her dancing career in favor of full-time cryptozoology... but when she gets a call from the producers of the reality TV series
Dance or Die
, she decides to give her ballroom-dancing persona one last hurrah. Unfortunately, someone on the
Dance or Die
set is taking the show's title literally—the eliminated contestants are turning up dead.
Once again, this is a mega fun book, and once again, I have quibbles. The covers on this series remain off-putting and dated, reminiscent of the Piers Anthony books of my childhood. McGuire needs a more eagle-eyed editor, who might prevent her from repeating the same phrases so often. And readers are asked to ignore a gaping plot hole: that a series of eliminated contestants on a national TV show could disappear without anyone noticing. (Where are their families? Friends? Reporters looking for interview subjects?) But these are minor complaints in the face of this series' ongoing combination of humor, charm, and high-octane energy.
Chaos Choreography
is yet another winner in a series that has been a delight from start to finish, and I hope McGuire keeps churning these books out forever.
No new comments are allowed on this post.