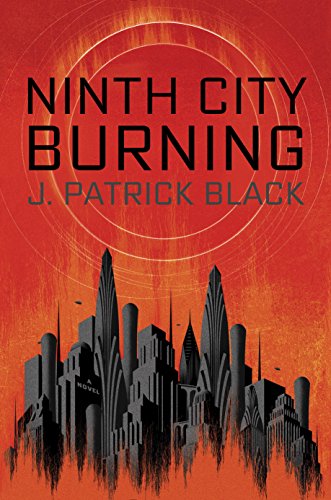 J. Patrick Black's novel Ninth City Burning features half a dozen point-of-view characters, ambitious world-building, and a sprawling intergalactic-warfare-meets-dystopian-future plot premise. I applaud the author's sheer guts, but the end result is more than a little overwhelming.

In Black's futuristic world, Earth is locked in an centuries-old war of attrition with an alien race. The aliens fight using a reality-warping force known as "thelemity", although humans have discovered that people can use it, too. Thelemity users are shipped off to military academies, where they're trained to become living weapons, while the rest of the world struggles to eke out an existence on a largely ruined planet. Humanity has worked out a (crappy and miserable, but effective) plan for survival, but the status quo is threatened anew when the aliens begin to change their tactics.

I sincerely sympathize with Mr. Black's editors: his book would have been far better with pruning, but it's all really good stuff. Unfortunately, cramming this much plot, characterization, and world-building into one book makes for an exhausting reading experience, no matter how good the individual elements. (If nothing else, a glossary and a list of dramatis personae would have been helpful.) I'm assuming this is the first book in a series—it's beautifully set up for a sequel—but here's hoping future installments are more streamlined, because this was the literary equivalent of a pie-eating contest: delicious but grossly overstuffed.

Review based on publisher-provided copy.
No new comments are allowed on this post.