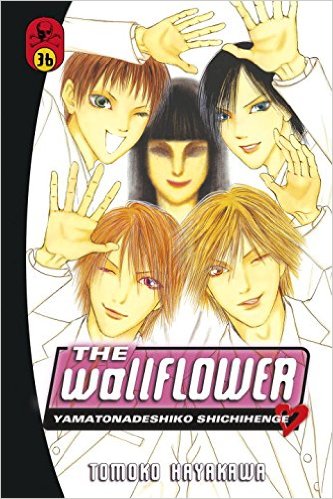 Tomoko Hayakawa's The Wallflower ran from 2000 to 2015, spanning 36 volumes. That's at least twenty volumes longer than the actual storytelling could support, but there is no denying that the series' main character is one of the most memorable heroines in manga.

The Wallflower focuses on Sunako Nakahara, a horror-loving girl with a sincere passion for anything creepy, violent, or soaked in gore. Sunako lives in her aunt's mansion with four impossibly good-looking boys: sweet-tempered Yuki, intellectual Takenaga, suave Ranmaru, and grumpy, selfish Kyohei. Sunako's aunt has promised the boys free rent if they transform her niece into a "Yamato nadeshiko"—the ideal version of a Japanese girl. Unfortunately, everything the boys try, from romance to hypnotism, promptly backfires, and Sunako remains the furthest thing from conventionally ladylike.

While Sunako is undoubtedly a morbid nutjob prone to single-minded fixations on everything from wrestling to serial killers, the central joke of The Wallflower is that she is also a genuinely wonderful girl, with many traditionally feminine strengths. She's a good student, an excellent cook and housekeeper, a loyal friend, and—while Hayakawa usually draws her as a short, shapeless, and nearly featureless blob—capable of looking beautiful.

The Wallflower is pretty much substance-free. There are flickers of romance between Sunako and Kyohei, but actual relationship progress is glacially slow. Despite moments of insight and appreciation, Sunako's aunt and housemates never give up on their hope of transforming her into something she hates. Hayakawa shamelessly recycles storylines, and rarely attempts to depict anything realistic or long-lasting.

That being said, there's a reason I have shelled out more than $350 for this series. In addition to my fierce love for Sunako, The Wallflower is packed with offbeat but charming elements, like Sunako's unexpected friendship with Noi, the prettiest girl in school. (In most shojo manga, Noi would be a romantic rival for Kyohei's attentions. Instead, she's a dedicated Sunako fangirl, utterly convinced the world will eventually see her friend's innate awesomeness.) I enjoyed Kyohei and Sunako's squabbly, competitive relationship, and every volume had me laughing out loud at least once. I can't fully recommend shelling out the cover price for this series—it's just too flimsy—but if you can find it for a discount or they start releasing omnibus volumes, it's a consistently fun and endearing read.
No new comments are allowed on this post.