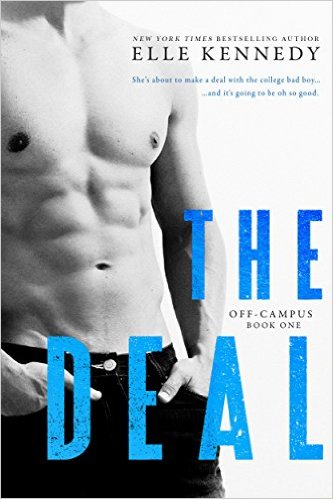 I recently read Elle Kennedy's
The Deal, The Mistake
, and
The Score
, a collection of fun, loosely-connected New Adult romances set in the college hockey world. In
The Deal
, aspiring singer Hannah Wells sets out to overcome a past trauma with some no-strings-attached sex with her new pal Garrett Graham, the captain of her school's championship-winning hockey team. In
The Mistake
, Garrett's teammate Logan meets the perfect girl... but manages to screw up their budding relationship almost immediately. In
The Score
, Hannah's friend Allie falls into a rebound fling with the campus playboy, but they soon discover that their meaningless sex isn't so meaningless after all.
There is so much to like about this series: great dialogue, easygoing humor, sympathetic characters. Best of all, Kennedy's protagonists seem mentally healthy enough to be in a successful relationship—or they get there by the end of the book, anyway. Trust me: this is by no means true of all, or even most, romance novel characters. She makes a couple of missteps (I don't care for the dismissive tone of the term "puck bunnies", and there's a scene in
The Mistake
where I felt the characters REALLY should have called the cops), but even with these minor flaws, Kennedy's books are more lively and charming than Courtney Milan's
Trade Me
, and about a million times healthier, smarter, and less infuriating than Jamie McGuire's
Beautiful Disaster
. There should be at least one more book in this series, and I'm looking forward to reading it.
No new comments are allowed on this post.