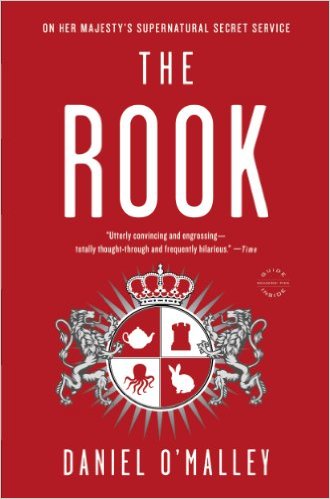 For a book that pretty much goes like this: infodump, infodump, action sequence, rinse, repeat, Daniel O'Malley's debut novel
The Rook
is astonishingly entertaining. It strongly reminds me of Seanan McGuire's
InCryptid books
, although I'm happy to report that I like
The Rook
even better.
When Myfanwy Thomas wakes up in a London park, surrounded by dead bodies and suffering from amnesia, she is forced to put her trust in the letter written by her former self she finds in a pocket. According to the letter, Myfanwy is a Rook, a high-level operative in a secret agency that protects the world from supernatural threats. Unfortunately for Myfanwy, however, her skills appear to be more organizational than offensive, and all the paperwork-wrangling gifts in the world aren't going to save her from a gang of super-powered killers.
Now that I've read
The Rook
, I can totally understand why Stephenie Meyer bought the TV rights. Words cannot express how much I dislike the
Twilight
series, but Ms. Meyer is clearly not a stupid woman, and
The Rook
—which will film like a blend of
Penny Dreadful
and
Orphan Black
, with a soupçon of
The Office
thrown in—has the potential to be an incredibly fun series (provided they are given a large enough budget). O'Malley's book is witty, inventive, violent, and intensely cinematic, and I'm totally looking forward to both reading the sequel and watching the TV adaptation.
No new comments are allowed on this post.