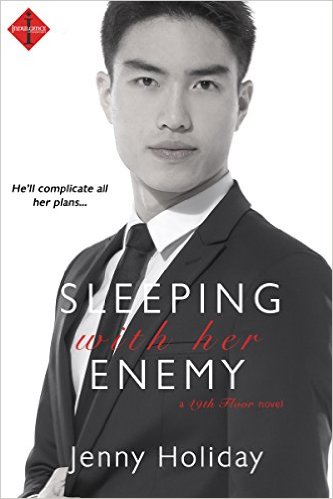 Jenny Holiday's novel
Sleeping With Her Enemy
is currently available as a
$0.99 e-book
. I'm not sure I'd be as enthusiastic about it if it had cost, say, $7.99, but at its current price it's an incredible bargain.
The heroine of
Sleeping With Her Enemy
is organized, hardworking Amy Morrison, whose fiancé has just announced—an hour before their wedding—that he is no longer in love with her. Amy flees to the one place she thinks will be deserted: her office. Her hopes for a private breakdown are dashed when Dax Harris turns up. Dax is the CEO of the software company one office over, and while he and Amy usually can't stand one another (he thinks she's uptight; she thinks he's a slut), Dax decides the only humane thing to do in this situation is take her out for a drink. Dax's moment of kindness jumpstarts an unexpected friendship, and Amy decides there's no shame in following Dax's usual example: she goes looking for a fun, no-strings-attached fling... just as Dax realizes he's ready for a serious relationship.
Sleeping With Her Enemy
is a little short, a little predictable (even by romance novel standards), and sprinkled with minor but irritating editing mistakes—missing commas, continuity errors, etc. It's also totally fun, with engaging, level-headed protagonists, charming supporting characters, and a real-world sensibility that I absolutely loved. (The hero is clear on the need for sober sexual consent! The heroine signs up for Tinder! Except for the fact that nearly everyone in the story is implausibly wealthy, they speak and act like actual twenty- and thirtysomethings! Seriously, Nora Roberts could learn a
lot
from Ms. Holiday's character development and dialogue skills.) I've paid loads more for stories I liked far less, and I'm really looking forward to reading more of this author's work.
No new comments are allowed on this post.