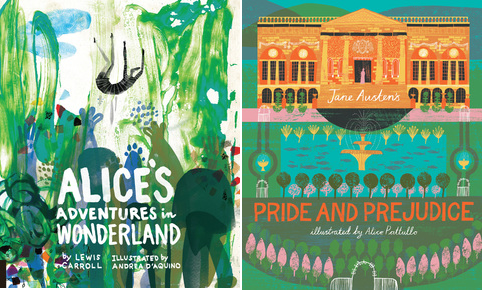 As longtime Wordcandy readers know, I collect editions of
Pride and Prejudice
and
Alice's Adventures in Wonderland
. I only have so much shelf space, so I try to be discerning, but every once in a while I see more copies that I absolutely
need
to own.
My latest
Pride and Prejudice/Alice
acquisitions are the
Quarto "Classics Reimagined" editions
, and they are absolutely gorgeous. These hardcovers are works of art, with full-color illustrations by artists Alice Pattullo (
Pride and Prejudice
) and Andrea D'Aquino (
Alice's Adventures in Wonderland
). They're heavy and oversized, with sewn pages, colorful endpapers, and loads of delicious little details, like the multicolored page edges on
Alice
featuring famous quotes from the story. Best of all, they're only $25, making them a Grade-A gift option.
A few quibbles: I wish Quarto had shelled out for critical essays, and I objected to a couple of Pattullo's artistic choices. (Too many of her illustrations were clearly based on the 1995
Pride and Prejudice
mini-series, rather than the book, and she depicts Elizabeth giggling through Mr. Collins's proposal, which is straight-up wrong.) Admittedly, these are the kind of nit-picky issues that are only going to bother my fellow Carroll/Austen geeks, but, hey: book nerds are the target audience for these kinds of reprints. None of these flaws are serious, however, and every time I see these editions I have to hold myself back from stroking the covers and whispering "My preciousssss..."
Review based on publisher-provided copies.
No new comments are allowed on this post.