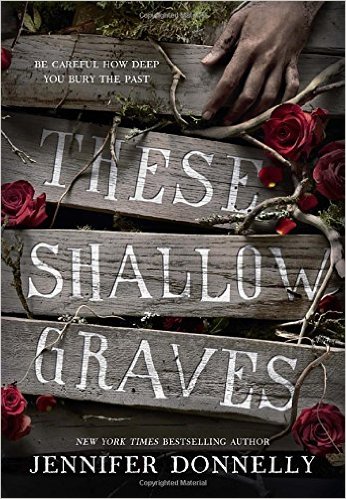 Jennifer Donnelly's These Shallow Graves is the kind of book you want to take on a plane: long, engrossing, and simultaneously fun yet intellectually challenging enough to distract you from the super irritating guy hogging the armrest.

These Shallow Graves opens in 1890 New York, as wealthy debutante Josephine "Jo" Montfort learns that her father has accidentally shot himself while cleaning a loaded gun. Jo, who dreams of becoming a journalist, is convinced there's something fishy about this story, but the only person who seems to believe her is Eddie Gallagher, a handsome, ambitious young crime writer. Determined to uncover the truth, Jo and Eddie start investigating the circumstances surrounding her father's death, but their search threatens to destroy Jo's reputation—and endanger both of their lives.

While I enjoyed Donnelly's setting, character development, and mystery, the romantic chemistry between her two leads is underwhelming. Thankfully, These Shallow Graves gets one big thing right: unlike many YA historical novels, the story acknowledges the social realities of the era, and not in a winking, forbidden-fruit kind of way. Instead, there are huge, inflexible barriers to Jo and Eddie's relationship, which makes their eventual open-ended-yet-hopeful resolution plenty satisfying, even if the sexual sparks fall a little flat.

Review based on publisher-provided copy.
No new comments are allowed on this post.