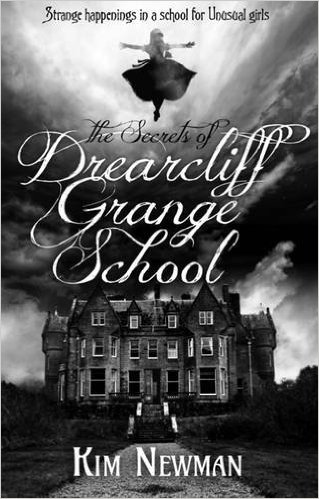 Kim Newman's
The Secrets of Drearcliff Grange School
is 300 pages of precisely detailed world-building, held together with 100 pages of adventure. It's a fun read, at least if you're part of the (presumably small) subset of people who like slowly-percolating stories about creepy boarding schools.
Amy Thomsett is the newest girl at Drearcliff Grange, a girls-only boarding school located in a remote corner of England. Drearcliff Grange seems like a regular boarding school—scratchy uniforms, terrible food, nasty upperclassmen—but Drearcliff girls are unique. Some are the daughters of thieves, mad scientists, and spies. Some, like Amy, have peculiar gifts of their very own. When one of the girls in their dormitory is abducted, Amy and her new friends are determined to use
all
of their special talents to get her back.
I have no idea why this book was marketed for adults. Sure, it's dark and sinister, but actually less so than Catherine Jinks's thematically-similar
Evil Genius
(which was marketed at 12-year-olds) or Diana Peterfreund's
Rampant
(Grade 9+). My best guess is that Newman's publishers assumed that kids wouldn't want to read something that develops at such a meandering pace—the story's Big Bad doesn't even turn up for well over a hundred pages, and her evilness is not immediately apparent. Instead,
Drearcliffe Grange
drifts along, indulging in a series of minor adventures, descriptions of Newman's enormous cast of characters, and loads of school bullying scenes. The end result is surprisingly entertaining (and it has a truly great cover, which cannot be discounted), but I suspect most teen readers would prefer something faster-paced, while most grown-ups would choose something more ambitious.
No new comments are allowed on this post.