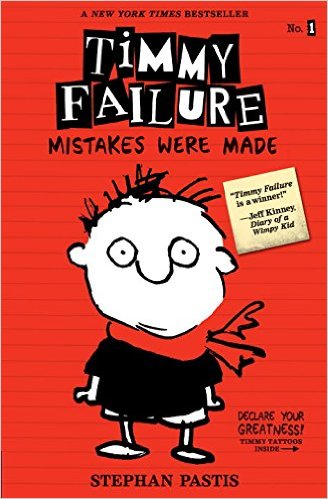 While people usually compare Stephan Pastis's Timmy Failure series to Jeff Kinney's Diary of a Wimpy Kid books, they're missing an even closer relation: the Timmy Failure books are basically a novel-length version of Marjorie Sharmat's Nate the Great series, albeit with racier humor and a stupider protagonist.

Timmy Failure isn't quite a graphic novel, but Pastis's punchy, intentionally juvenile illustrations appear on nearly every page. The title character is a dimwitted child detective who spends so much time complaining about school, his mother, his friends, and his sidekick (a polar bear named Total) that he misses pretty much every clue, no matter how obvious. Older readers will pick up on Timmy's real-world problems—poverty, loneliness, the attention span of a gnat with ADD—but kids will enjoy the contrast of his delusional self-confidence with his bone-deep ineptitude.

I realize this is like comparing the plot twists in Sesame Street vs. Mr. Rogers' Neighborhood episodes, but I'm just gonna say it: I enjoyed Timmy Failure, but the Nate the Great books have better mysteries. Timmy's incompetence makes Nate—by no means the sharpest crayon in the box—look like Sherlock Holmes. Pastis's surrealist sense of humor and the endearing cast of secondary characters were enough to keep me reading, but I'm hoping Timmy gets at least a little smarter in future installments, because I was too busy wincing over his idiocy to fully enjoy this one.
No new comments are allowed on this post.