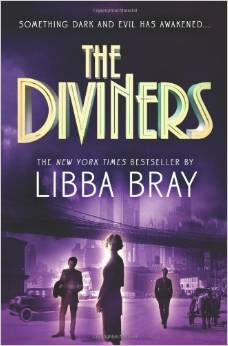 Libba Bray's books remind me of cheesecake—
good
cheesecake, sure, but the basic kind without bittersweet chocolate or lime zest or whatever. Her writing is always rich, carefully crafted, and satisfying, but despite her many excellent qualities, it's just not that memorable.
The Diviners
, the first book in Bray's latest YA series, is set in 1920s New York City.  When 17-year-old Evangeline is shipped off in disgrace to stay with her uncle, the proprietor of a Manhattan museum devoted to the supernatural, she has no idea what she's in for. Evie has always had a strange party trick—she can divine secrets from physical objects—and it seems that New York is full of teenagers with similar gifts, including a numbers runner with the ability to heal, a composer who walks in dreams, and a Ziegfeld dancer with a dark past. These teenage misfits appear to have little to do with one another, but their abilities will all be required to stop a series of ritualistic murders.
I don't want to complain too much about
The Diviners
, because this book is an intelligent and thoroughly entertaining bet. The characters are multidimensional, the horror/fantasy elements intriguing, and the various romantic entanglements are nicely set up. I enjoyed reading it, and I fully intend to pick up the sequel. I just wish Bray would try to push the envelope a bit more; introduce that little glint of genuine weirdness that would elevate her writing from an A to an A+. Right now Bray is up there with the
Holly Blacks
and
Sarah Zettels
of the YA world, but I'm still on the lookout for another
Ysabeau S. Wilce
—a fantasy writer brave enough to let her imagination truly run amok.
No new comments are allowed on this post.