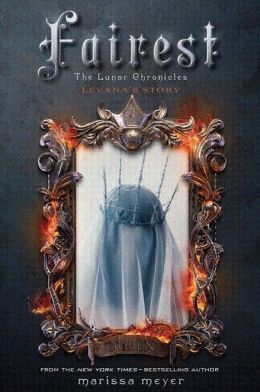 Marissa Meyer's Lunar Chronicles are a sci-fi blend of classic fairytales,
Sailor Moon
, and modern fantasy/adventure. Meyer has a gift for mashing all of her various inspirations into a seamless whole, but her constant borrowing makes it difficult to judge her books on their own merits.
After three chronological installments (
Cinder, Scarlet, Cress
), each featuring an interconnected story about a group of fairytale heroines, Meyer decided to write a background novel about the villain of her series.
Fairest
is the evil Queen Levana's story—from her childhood as the scarred and belittled younger sister of a cruel ruler, through her rise to power, and eventually to her role as a vicious leader in her own right.
The biggest problem with a story like
Fairest
is that the end is a foregone conclusion. We know how Levana ends up, and (as it turns out) she doesn't start out particularly well, either. It's hard to sympathize with a character who is so deeply unpleasant from the get-go, and it's even harder to do so when there is so little deviation in her character development. Levana goes from nasty, to pathologically manipulative and selfish, to a full-blown murderous psychopath. It's not an endearing character arc, and it makes it impossible to care about her troubles.
I mostly enjoyed
Fairest
for the glimpses it offered of younger versions of Meyer's characters—we meet toddler versions of Cinder, Winter, and Jacin Clay, and get the clearest picture to date of Lunar society. That's not quite enough to justify the cover price ($17.99, for a
very
generously sized and spaced 220 pages), but there's a totally gorgeous, full-color image of the Lunar colony on the inner cover, Meyer has written several free stories on
Wattpad
, and I hear the upcoming
Winter
is going to be a hefty 800 pages, so I suppose I'm willing to make allowances.
No new comments are allowed on this post.