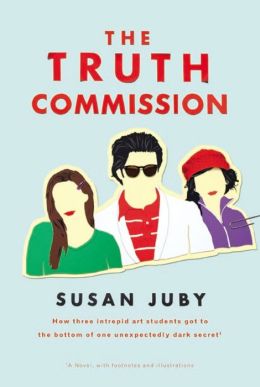 Susan Juby's The Truth Commission is 60% snappy young adult novel; 40% unexpectedly effective horror story. I really enjoyed the teen stuff, but I'm a little sorry Ms. Juby didn't go full-out on the horror, because this book is proof positive that she can create characters that would leave Stephen King weeping with envy.

High school junior Normandy Pale has spent years tiptoeing around her brilliant, temperamental older sister, Keira. As a teenager, Keira created a wildly popular graphic novel series based on a warped but recognizable portrait of their family, and Normandy is painfully aware that the comic-reading world knows her as "Flanders", the grotesque, dull-witted sibling of Keira's brilliant protagonist. Normandy and her hapless parents were relieved when Keira went off to college, but she suddenly returned, refusing to explain why she left school or what happened with her latest book contract. Normandy has always passively accepted her family's dynamic, but when her two best friends launch a school-wide craze for honesty, she decides it might be time to face up to how she really feels about her sister's work.

The Truth Commission kicks off like a slightly-too-racy-for-Disney teen movie, but grows steadily darker. There are humorous, lighthearted, and dreamily romantic moments scattered throughout, but the most striking thing about this novel is Normandy's depiction of her appalling family. Normandy's parents are completely ineffectual, simultaneously in awe of Keira's genius and terrified that any misstep (an unflattering new hairstyle, a mistake at work) will be used as fodder for her next book. Keira is one of the creepiest characters I've encountered in recent memory. She drifts through the story like a vampire, leeching off of her family's pain and embarrassment. This nightmarish set-up is mellowed by Normandy's wry, funny narration, but it still creates an overwhelming impression that Susan Juby owes it to the world to write a horror novel, because this book proves that she has a gift—hell, possibly a calling—for the genre.

Review based on publisher-provided copy.
No new comments are allowed on this post.