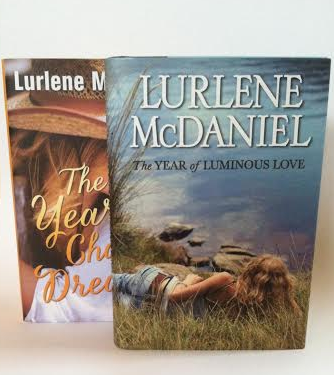 Lurlene McDaniel's novels The Year of Luminous Love and The Year of Chasing Dreams boast more melodrama than a Mexican telenovela. These books have everything: natural disasters! Forbidden love! Lingering illnesses! Birth secrets! Personally, I felt like I was trapped in an interminable game of "Pin the tail on the soap opera cliché", but I'm told some people really enjoy that kind of thing. Clearly, these books are for them.

McDaniel's trio of heroines are lifelong friends, fresh out of high school and living in rural Tennessee. All three are facing major, life-altering problems: Arie is stricken with recurring cancer, Eden is stuck with both a mentally ill parent and a violently possessive, drug-dealing boyfriend, and Ciana is struggling to hold onto her family farm. (Ciana's troubles might seem minor in comparison, but don't worry: the second novel really kicks her disaster-magnet status into high gear.) The girls are surrounded by various love interests, antagonists, and family members, but the only really important secondary character in these novels is The Cruel Whims of Fate.

According to the press releases for these books, McDaniel's stories aim to be "inspirational", yet also "hard-hitting and realistic". She doesn't hit either mark, in my opinion—her never-ending parade of disasters is too over-the-top to be believed, and her heroines rarely sound or act like real young adults, which makes it difficult to be inspired by their behavior. (I have no idea how old McDaniel is, but word to the wise, lady: modern teenagers do not compare their romantic relationships to Prince Charles and Princess Diana's. Hell, I'm in my 30s, and I'm too young to make that comparison.) I'm not saying these books are out-and-out unreadable, but I am saying that their appeal is going to be limited to readers who get a thrill out of reading about implausible people struggling with implausible problems. In short: soap opera fans.

Review based on publisher-provided copies.
No new comments are allowed on this post.