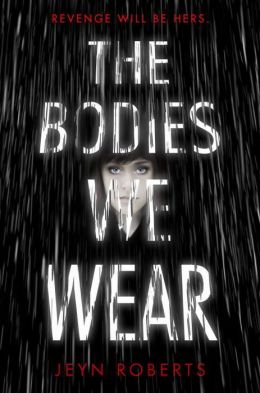 Jeyn Roberts's
The Bodies We Wear
is the kind of book I normally avoid. I'm not a big fan of gothic melodramas, so I was surprised to discover that this novel spoke to the same part of me that enjoys the
Underworld
films.
The Bodies We Wear
might lack vampires and shiny pleather catsuits, but, like
Underworld
, it takes its goofy gothic premise 100% seriously, and I find that endearing.
Seventeen-year-old Faye has devoted the last six years to revenge. As a child, she was forced to take a dose of Heam, an incredibly addictive drug that allows users a glimpse of what might be the afterlife, and she's been cursed with the life-ruining stigma of being an addict ever since. Faye is determined to kill the men who gave her the drug, but when a mysterious boy named Chael starts popping up everywhere she goes, she finds herself wondering if killing her attackers will really bring her any satisfaction.
I liked the possibly-supernatural drug angle in
The Bodies We Wear
, and I was totally invested in the romance, Faye's quest for revenge, and her attempts to save a fellow addict. Unfortunately, Faye's high school troubles felt shoehorned in and the heavy-handed hints about Chael's true nature got old fast. (He actually stands under streetlights that cast a halo on his head. Subtle! And I'm sorry to nitpick, but while "Chael" looks cool in print, the phonetic pronunciation would be "Kale". Kale is a wonderful vegetable, of course, but not the sexiest angelic reference on record.) As religion-tinged supernatural horror goes, I much preferred
The Bodies We Wear
to, say, Lauren Kate's
Fallen
series, but I wish Roberts had chosen to write an adult novel instead, one that fully embraced the sex/danger/ass-kicking potential of such a subject.
Review based on publisher-provided copy.
No new comments are allowed on this post.