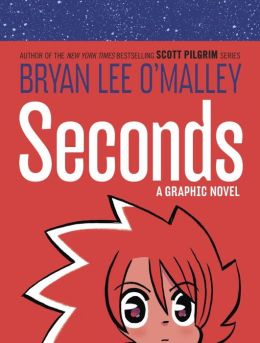 This week's Book Giveaway title is Bryan Lee O'Malley's new graphic novel
Seconds
. People have often suggested that I review O'Malley's
Scott Pilgrim
series, but I couldn't get past the first volume, which opens with the books' 23-year-old protagonist dating a 17-year-old girl. I understand that O'Malley was heavily influenced by Japanese manga, but... uh, there's a lot of stuff from manga that doesn't translate well, you know? Here's hoping this title is less skeevy—our review will go up later today. (Note:
Seconds
is being released on the 15th, so we won't be mailing it out until next Tuesday.)
As always, this contest runs Monday through Friday. To enter, just send us an
e-mail
connected to a valid address. Complete rules and regulations can be found
here
.
NOTE:
We think we've fixed the problems with the email page, but if your message is marked un-deliverable, you can send us an email directly using the address "info [at symbol] wordcandy [dot] net" (minus all those spaces, of course).
No new comments are allowed on this post.