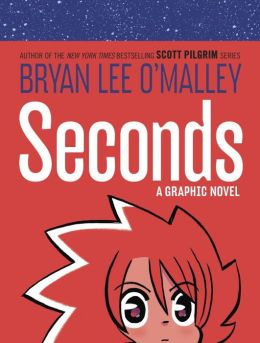 Still riding high from the resounding success of his
Scott Pilgrim
series, Bryan Lee O'Malley's new standalone graphic novel
Seconds
is a fantasy/horror/humor hybrid about Katie Clay, a young, talented chef at a popular restaurant. Katie is trying to open a new restaurant (one that she will co-own), but the process is slow, so she's stuck in limbo, hanging around her former kitchen and pestering her ex-employees. When a moment of inattention leads to a waitress being injured, Katie makes an amazing discovery: the restaurant has a "house spirit" living in its rafters—a magical creature with the power to undo any mistake. Sure, Katie's only supposed to use this magic once... but she's never been good at following rules.
Everything about
Seconds
is absurdly cute—so cute, in fact, that I found it impossible to take the story's creepier elements seriously. O'Malley's endearing character design manages to keep Katie on the right side of tolerable (mostly), although it's frustratingly obvious that she's totally self-centered and her wishes are steadily making things worse. The story's message is pretty slight (as the author himself seems to acknowledge, late in the book), but it's creatively delivered, and the end product feels an entertaining, deliciously colorful picture book for adults.
Unfortunately,
Seconds
isn't
priced
like a picture book. This (beautifully packaged, admittedly) edition costs $25, which seems awfully steep for such an ephemeral read. In contrast, Charles Burns's
Black Hole
, Chris Onstad's
The Great Outdoor Fight
, and Amanda Cohen's
Dirt Candy
all cost less than $20, and feature far more memorable content. I'm not saying O'Malley's story isn't worth buying, but if you're on a budget you might want to hold out for something a little meatier, or wait until this sucker comes out in paperback.
Review based on publisher-provided copy.
No new comments are allowed on this post.