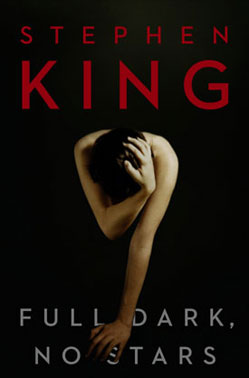 I've never thought of Stephen King's work as being Lifetime material (except for maybe
Dolores Claiborne
), but
The Hollywood Reporter
informs me
that the network is gearing up to adapt King's 2010 novella
Big Driver
(from the collection
Full Dark, No Stars
) into a made-for-TV movie. The story actually sounds totally Lifetime-friendly:
In 'Big Driver', Tess Thorne (Maria Bello), a famous and revered mystery and thriller writer, faces a long drive home following a book signing engagement. Prompted to take a shortcut at the suggestion of the event's planner, Ramona, Tess sets out to return to her house. But while driving on a lonely stretch of New England road, her tire blows out, leaving her stranded.

Relieved when another driver (Will Harris) stops and offers assistance, Tess quickly discovers that her savior is actually her assailant, a serial killer who repeatedly assaults her. Left for dead in a drainage pipe to rot with the bodies of his other victims, Tess escapes and makes her way safely home. With her fragile mind beginning to unravel, she is determined to find her rapist and seek revenge, as payback is the only thing holding her together.
Between this and
Flowers in the Attic
, Lifetime is going
hardcore
.
No new comments are allowed on this post.