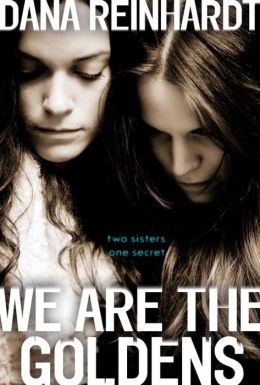 Reading Dana Reinhardt's We Are The Goldens is an exercise in appreciating process rather than product. It's thoughtful and well-written, but if you're hoping for a tidy, satisfying conclusion you're doomed to disappointment.

Sisters Nell and Layla have always been close, but high school changes everything. Nell doesn't understand why her beloved older sister is suddenly so distant, but she begins to suspect the rumors about Layla are true: she's having an affair with her teacher. Nell has no idea what to do, and is beset with troubles of her own—her best friend's father is sick, she's in the midst of her first major crush, and she's struggling to define herself as something more than just "Layla's little sister".

The emotions in We Are The Goldens ring true, even if some of the behavior is tough to swallow. I was totally invested in Nell's ambivalence about Layla—she's desperate to prove her loyalty to her sister, but can't decide if that means keeping her sister's secrets or betraying them. It was much more difficult to sympathize with Layla. We're told she's intelligent and sensible, but all we see is her acting like the dumbest character on an ABC Family show. Teen readers might find her forbidden-love dramatics compelling, but as an adult I mostly wanted Nell to slap some sense into her, and was genuinely disappointed when the story ended on a thoughtful, ambivalent, and (alas) violence-free note.

Review based on publisher-provided copy.
No new comments are allowed on this post.