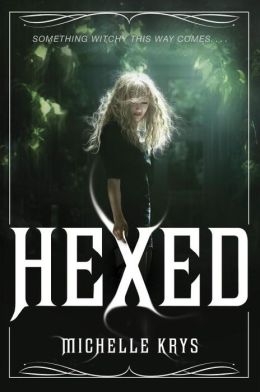 The publisher's introduction for Michelle Krys's debut novel
Hexed
describes the story as "
Bring it On
meets
The Craft
", and they're not lying: this book is
uncannily
like a late-90s teen movie—snarky, satisfying, and (it must be said) frequently totally ridiculous.
Sixteen-year-old cheerleader Indigo Blackwood has a hot boyfriend, excellent GPA, and a spot near the top of the school's popularity food chain. Apart from her mother's embarrassing fixation on the occult, Indie's life is practically perfect... that is, until she witnesses a strange accident near her mother's shop, and finds herself caught up in an ancient battle between witches and witch-hunters. Indie has no idea what's going on, but thankfully there's a super-hot, smart-mouthed guy with magical powers and an emo wardrobe waiting around to help.
To be frank, the high school stuff in
Hexed
makes a hell of a lot more sense than the witchcraft stuff, but the witchcraft stuff is all that prevents this story from turning into a better-written version of Beth Reekles's
The Kissing Booth
. As it is, Indie is gorgeous, popular, and secretly super-powerful! Her love interest's leather jacket, tattoos, and lascivious jokes distract people from noticing his noble soul! (Also, his own mansion and vintage muscle car.) If Krys didn't leaven all this adolescent wish fulfillment with plenty of action and an enjoyably nasty sense of humor, I'd probably still be queasy from sugar shock. As it is, I'm definitely planning to read the next installment, but hoping the author puts more effort into balancing out the details of the perfect teenage dream with some coherent plot development.
Review based on publisher-provided copy.
No new comments are allowed on this post.