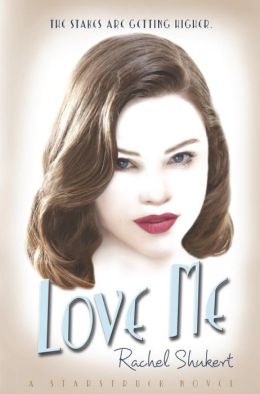 Rachel Shukert's YA novel
Starstruck
was one of my favorite books of 2013. Smart and compulsively readable, it managed to transform the basic plot of Jacqueline Susann's deadly dull
Valley of the Dolls
into a deliciously juicy soap opera about three girls struggling to make it big during the Golden Age of Hollywood.
The second book in the series,
Love Me
, has just been released, and with it Shukert has upped her game: the seedy reality of the 1930s studio system has begun to hit her heroines, hard. Blonde ingénue Margo struck lucky with her first film role, but her fairytale success seems to be slipping through her fingers. Amanda is desperate to reconcile with her true love, but her financial situation is precarious, and her old career as a high-priced escort may be her only way of surviving. Gabby's musical talent is finally allowing her to move past little-girl roles, but she's guzzling booze and popping pills like candy. All three are tangled up with questionably supportive men, and their friendships with one another are increasingly rocky...
Nothing actually gets resolved in
Love Me
, but when a story is this stuffed with over-the-top plot twists, who cares? Seriously, I have
no
idea how Shukert can possibly steer these storylines towards something even remotely resembling a conventional, teen-approved happy ending. As things stand at the end of this installment, the girls' careers are in shambles, their various love interests have proven to have feet of clay (hell, these guys have
legs
of clay), and their mutual friendships have disintegrated. I'm holding out hope the author can magically find a way to give her three heroines—each appealing in her own way—a plausible happily-ever-after, but after the events of
Love Me
I suspect I might need to settle for them making it out alive. Either way, I plan to be first in line to find out what happens next.
No new comments are allowed on this post.