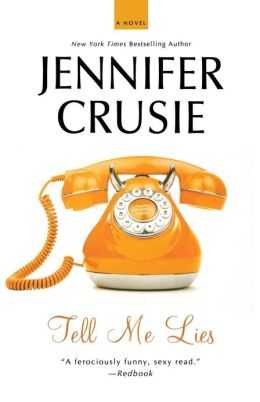 This week's Book Giveaway is a two-pack: Jennifer Crusie's
Tell Me Lies
and
Crazy for You
, which we reviewed
here
a few years ago. I'm trying to make some space on our bookshelves, and we were lucky enough to be sent multiple copies of Ms. Crusie's books, so you can expect one more Crusie-themed giveaway in the next few weeks. I have accepted (grudgingly) that I don't actually need three copies of
Bet Me
, even if it
is
my favorite contemporary romance.
...just two copies. What if I lose one, and it goes out of print?
What then?
As always, this contest runs Monday through Friday. To enter, just send us an
e-mail
connected to a valid address. Complete rules and regulations can be found
here
.
NOTE:
We think we've fixed the problems with the email page, but if your message is marked un-deliverable, you can send us an email directly using the address "info [at symbol] wordcandy [dot] net" (minus all those spaces, of course). Sorry for the ongoing confusion!
No new comments are allowed on this post.