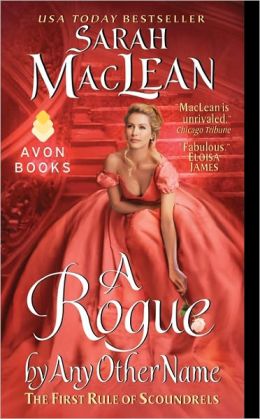 After hearing absolutely glowing reports of Sarah MacLean's romance novels, I picked up a copy of the first book in her most recent series, A Rogue By Any Other Name. It's been quite some time since I last read a straight-up romance, and my hopes that I had found an entertaining new author to follow were high.

A Rogue By Any Other Name is the first installment in a series built around a gaming club run by four impossibly handsome, impossibly damaged people. In 1821, Michael, Lord Bourne, lost most of his property in a single foolish bet. Nine years later, he has rebuilt his fortune, but he still hasn't been able to reclaim Falconwell, a chunk of land that has ended up in the dowry of his estranged childhood friend, Lady Penelope Marbury. Michael is hell-bent on re-acquiring that property, and willing to do anything to get it—including compromising Penelope and forcing her into marriage. But Penelope (who is surprisingly willing to be compromised) has a few conditions of her own...

MacLean is a technically competent writer, avoiding historical anachronisms and major plot missteps. Unfortunately, she screws up the one thing every romance writer really, really needs to get right: neither Michael nor Penelope are particularly likeable. Michael has spent most of a decade allowing a single stupid decision he made at twenty-one dominate every aspect of his life, and Penelope—who I think is supposed to be "warm" and "generous"—instead seems like a total idiot. Time after time, her new husband reminds her that he's going wear a loving façade in public, and yet she keeps on thinking it means something more. (It does, of course, because this is a romance novel, but it's not like SHE knows that, or Michael ever behaves in a way that indicates that he cares about her.) I was constantly rolling my eyes over them both—Michael, for being an emotionally constipated loser, and Penelope, for letting him jerk her around like a yo-yo.

That being said, I'm totally going to read the next book in the series, One Good Earl Deserves a Lover. The thing I enjoyed most about A Rogue By Any Other Name was Michael and Penelope's childhood friendship, which MacLean brought into the story via samples of their correspondence as teenagers. Those warm, funny letters indicated that MacLean has the ability to create characters with palpable chemistry; she just needs to avoid the Bronte-esque drama that bogged down the rest of her book. Happily, the sample I've read of One Good Earl features a less melodramatic introduction, so I'm hoping it will provide a better display of Ms. MacLean's much-vaunted romance-writing charms.
No new comments are allowed on this post.