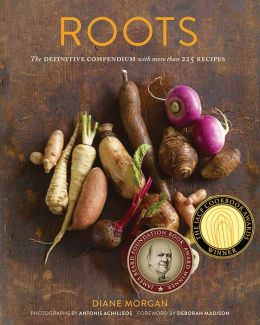 Gift Idea #4:
Roots: The Definitive Compendium
, by Diane Morgan
In addition to being the winner of the 2013 James Beard Foundation Book Award for "Vegetable Focused and Vegetarian" cookbooks* and the winner of the 2013 IACP Cookbook Award for single subject-cookbooks, Diane Morgan's book
Roots
(cover price $40, can be found for considerably less online) is a visual ode to the remarkable beauty of root vegetables. Seriously, I have never even seen a
crosne
in the flesh (er... so to speak), but now eating one has become one of my life goals.
*Please note: The recipes in this book are NOT entirely vegetarian, although there are more than enough vegetarian recipes to justify the price for non-meat-eaters.
No new comments are allowed on this post.