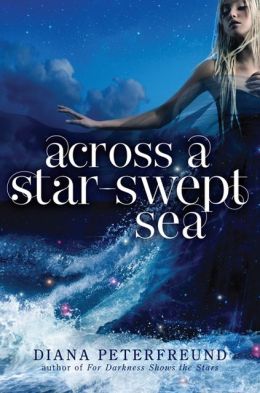 I seriously wanted to love Diana Peterfreund's 2012 novel
For Darkness Shows the Stars
—it's a post-apocalyptic YA reworking of Jane Austen's
Persuasion
, and who hasn't always longed for one of those? Unfortunately, the story suffered from the same problem I usually have with Peterfreund's writing: she has style, intelligence, and imagination, but her aggressively creative plot premises frequently lead to overworked storytelling.
Peterfreund has just released
Across A Star-Swept Sea
, a "companion novel" to
For Darkness Shows the Stars
inspired by the Baroness Orczy's 1905 adventure-romance
The Scarlet Pimpernel
. Like
For Darkness, Across A Star-Swept Sea
is set in a distant future where two nations are maintaining an uneasy truce: the newly-formed republic of Galatea is brutally punishing its former overlords, while the nearby island monarchy of Albion is torn between helping the remaining members of Galatea's former ruling class and keeping a nervous eye out for signs of rebellion in their own country. While Albion's court dithers over the best course of action, a mysterious vigilante known as the Wild Poppy has begun rescuing Galatean prisoners. Everyone is speculating on the Wild Poppy's true identity—but no one suspects Lady Persis Blake, Albion's most outrageously frivolous debutante.
The two books don't align perfectly, but Peterfreund does her best to create parallels between her novel and her source material. There are some misfires—I was disappointed in
Star-Swept Sea
's final action sequence (in
The Scarlet Pimpernel
, the hero is fully in charge of the action from start to finish, while Peterfreund's heroine has to be rescued by one of her minions), and a cameo by characters from the prequel felt shoehorned in—and, as one might expect from a futuristic, gender-swapped, YA retelling of a classic book, there are
way
too many opportunities for Peterfreund to indulge her habit of favoring laboriousness over charm. However, it is also clear that Peterfreund truly loves
The Scarlet Pimpernel
, and none of her stylistic errors are severe enough to prevent
Across A Star-Swept Sea
from feeling like an organic, affectionate tribute to Orczy's work.
No new comments are allowed on this post.