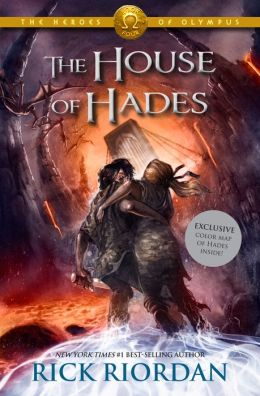 And speaking of Rick Riordan's
The House of Hades
(which I
was
, at least in passing), the author recently gave a
lengthy interview
to
Publishers Weekly
, which included an update on his upcoming series about the Norse gods:
"As he mentioned at the 15th annual Literary Lights for Children tea party, hosted by the Associates of the Boston Public Library, this past weekend, he is setting his forthcoming Norse trilogy in Boston. "Kind of by living here, I've started my research," he says. "I've found some fascinating connections between the Vikings and New England. In the summer of 2011, he, his wife, and his sons took a cruise to Denmark, Finland, and Sweden, which "doubled as a research trip," he says. They have yet to make it to Norway, though it's possible, he says. "With Percy Jackson, I never managed to get to Greece until I'd finished the first five books!" Immediately after he submits the final Heroes of Olympus book in April 2014, Riordan will focus his attention on the Norse series. "I have a feeling I will devote a full year to the first Norse book to get that world off the ground," he says. He may write more quickly after that first one, he says, "if things are going well."
There's also an amusing bit about the
Percy Jackson
movie adaptations, in which his agent manages to tactfully disclaim responsibility without out-and-out trashing the films.
No new comments are allowed on this post.