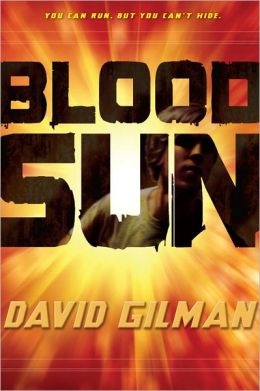 David Gilman's supercharged Max Gordon series is aimed squarely at action/adventure purists. These books are not even remotely plausible, but they're ridiculously fun—even for someone like me, who would ordinarily be grousing about strained credulity and far-fetched MacGuffins.

Blood Sun is the third installment of Max Gordon's adventures. Preternaturally resourceful, 15-year-old Max is a boarding school student and the son of two Indiana Jones-style scientist/adventurers. Max is desperate to uncover any information about his mother's recent death in Central America, but his only source of information—a fellow student—dies in an apparent suicide. When shadowy secret agent-types start popping up around Max's school, he realizes that he has two choices: allow himself to be taken in for questioning, or set off on yet another solitary adventure to try to discover the truth for himself.

This is the kind of story that includes, but is not limited to, crocodiles, drug runners, evil scientists, boa constrictors, mercenaries, extreme sports, shamans, human sacrifice, and spirit animals. I'm serious—it's like the author spun a wheel to pick out a list of dangers, but eventually decided not to limit himself and tossed in the lot. Max travels across the globe, barely survives about a billion close calls, and lives to squeak by another day. Gilman adds in a few human touches (an encounter with a pretty girl, Max's ambivalent feelings about his father), but 99.9% of Blood Sun is crisply-written, nonstop action, perfect for your next plane trip, hospital stay, or beach vacation.

Review based on publisher-provided copy.
No new comments are allowed on this post.