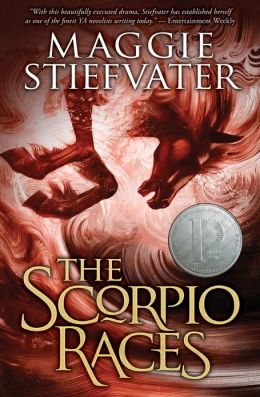 I loved
Shiver
, the first book in Maggie Stiefvater's
Wolves of Mercy Falls
trilogy, but I was seriously underwhelmed by its sequel,
Linger
. Middle books can be tricky, but Stiefvater's approach was ridiculous: she reversed the plot of her first story, returning her characters to the same mess they were in at the beginning of the series. This disappointment left me with drastically lower expectations for her 2011 novel
The Scorpio Races
, which has been gathering dust in my to-be-read pile for over a year. But I finally opened it this morning, and either Ms. Stiefvater's plot-structuring skills have improved significantly in the past few years, or she should always stick to writing standalone novels, because
The Scorpio Races
is a superb example of YA fantasy.
The Scorpio Races
is set on the fictional, vaguely Celtic island of Thisby. The story's narration is split between two characters: Kate "Puck" Connolly, a strong-willed orphan facing eviction from the only home she's ever known, and Sean Kendrick, a taciturn boy known all over the island as the best person to catch and tame a
capall uisce
—the powerful, carnivorous water horses that live in the waves off Thisby's shores. Each November, tourists flock to the island and watch local men ride the deadly, half-wild animals in a series of races, betting on who will make it to the finish line... and who will be dragged into the sea.
The Scorpio Races
reminded me of Robin McKinley's best books. The fantasy elements are anchored by a lot of satisfyingly mundane details, the two protagonists are equally independent and intelligent, and their romance and eventual happy ending feels both hard-won yet richly deserved. It's unclear when exactly the book is set—apart from "some time in the early 20th century"—but Stiefvater contrasts her supernatural monsters with several real-world horrors of the time: sexism, class prejudice, extreme poverty. The end result is a blend of menacing atmosphere, breathless action, and quietly intense romance. It's a massive improvement over Ms. Stiefvater's earlier work (even my beloved
Shiver
), and has me totally excited about her writing again.
No new comments are allowed on this post.